Sleep Test Software Designed to Help You Grow
Insurance Benefits
Patients submitted with valid PPO or Medicare plans receive a complimentary benefits check. If applicable, we then direct-bill the carrier.
Telemedicine
Our team of associate Doctors are standing by to complete pre-test visits, prescribe the HST, interpret results, issue LOMN's, and complete post-test telemedicine visits and treatment prescriptions if necessary.
Patient Tracking
View all your patients' progress in real-time throughout the entire process in your custom portal. Add chart notes, view documentation, get support, and more!
Patient Portal
Patients can track their progress, submit necessary information, and stay informed about their entire home sleep test journey.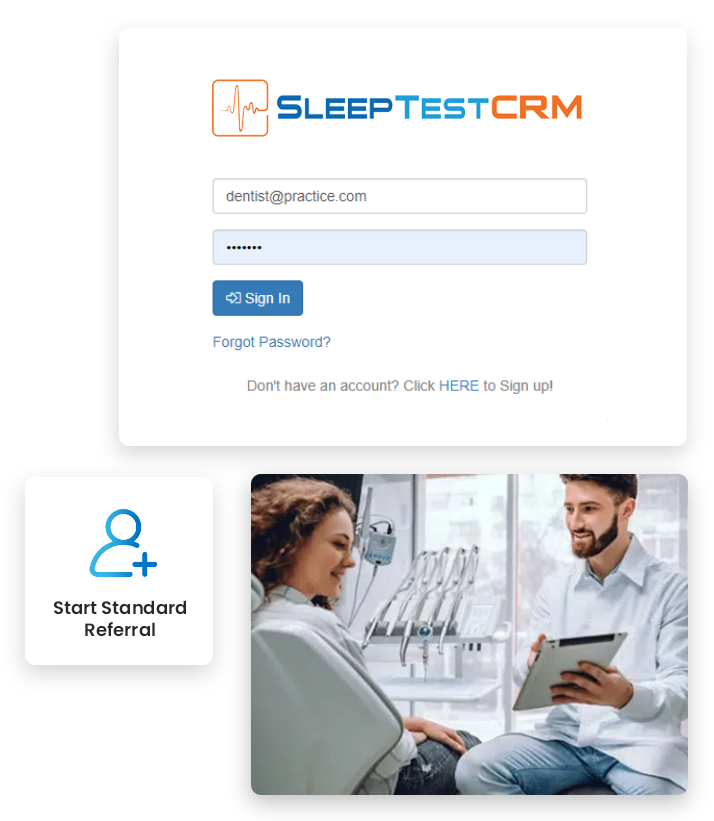 Provider Software
We Make it Easy to Get Your Patients an At-Home Sleep Test
Our custom-developed online software, SleepTestCRM, allows clinicians to submit patients quickly. From there, we manage patient benefits, telemedicine, shipping, receiving, and interpretation of the data while keeping you informed with real-time email alerts and a custom portal.
Submit your patients' information via SleepTestCRM.
We conduct a complimentary benefits check and provide patients' fees before commitment.
We schedule your patients for a pre-test telemedicine visit with a sleep specialist.
A sleep test device is mailed directly to your patients with complimentary shipping & receiving.
Patients complete a two-night home sleep test in the comfort of their own bed.
Patients attend a post-test telemedicine visit with a sleep specialist to review their results.
Sign Up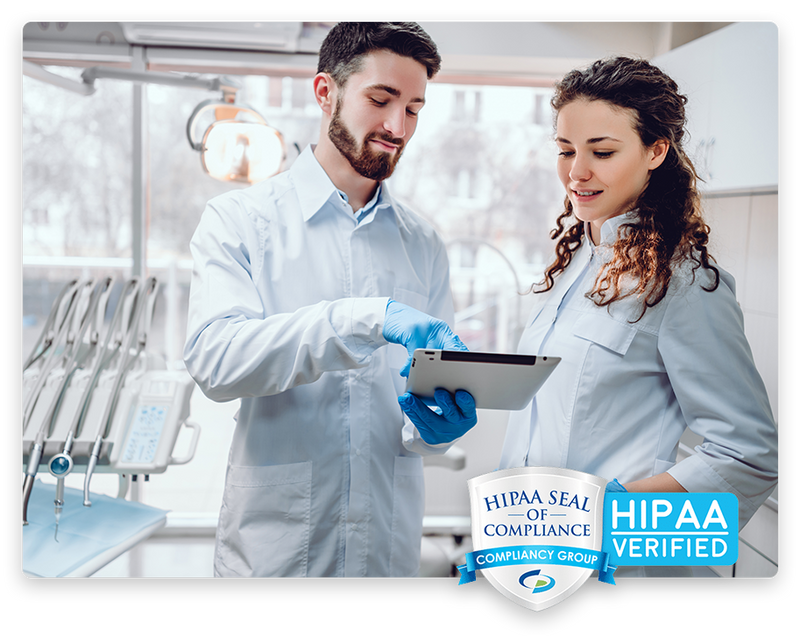 Benefits For Provders
How it Can Help Your Practice
We make sleep testing easy and affordable for the patient and you, their doctor. We designed the SleepTestCRM with you and your patient in mind by integrating a full suite of automation and telemedicine that is 100% HIPAA compliant! We will handle the technical details of sorting out payment, insurance, and shipping while you worry about the part you love, sleep medicine.
Unlimited home sleep tests
Custom-built web-based software platform
Built-in telemedicine patient consultations
Onboarding training – video and webinar
Patient education tools and handouts
Marketing tools – free social media content
Pre-diagnosed patients directed to your practice
Sign Up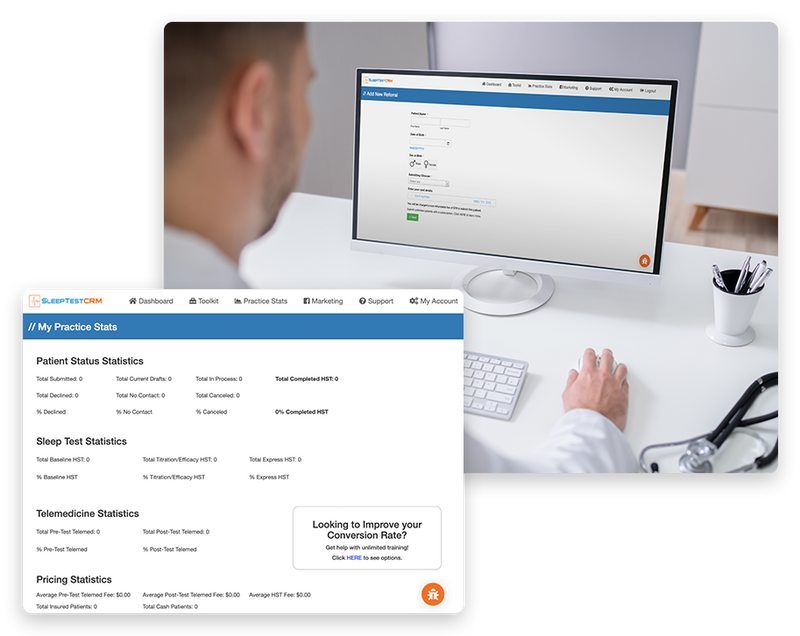 SleepTestCRM
Using SleepTestCRM
Using SleepTestCRM, you can track patients from start to finish. Simply log into your dashboard from a computer or tablet, screen and submit patients chairside, capture insurance cards with a camera, select the type of test you want, and submit!
Interested in seeing our software?
Request Live Demo
Subscription
SleepTestCRM Pricing
When you sign up for SleepTestCRM, we offer affordable options and savings with commitment.


Popular
Month-to-Month
Monthly Subscription
$149
- Access to all CRM features
- Provider locator listing
- Simple monthly billing
- Cancel anytime
Select
Or
$300 in Savings
Annual Subscription
$1499
- Access to all CRM features
- Provider locator listing
- Save $300 with convenient annual billing
- No setup fees
Select
Instant Access
Subscribe and start submitting patients instantly.
Onboarding
Live one-on-one onboarding for you and your team.
Patient Assistance
Our customer service team will help guide your patients through the entire process.
Ongoing Support
Complimentary ongoing training, coaching, and support whenever you need it!
A closer look at the SleepTestCRM
Our custom CRM was designed with constant feedback from the sleep medicine community.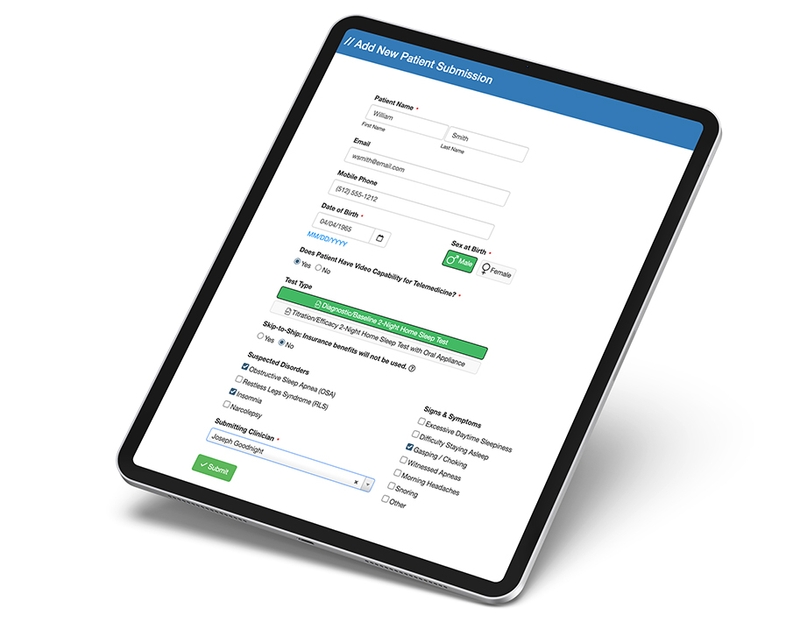 Simplified Patient Submission
Submitting new patients for testing is a breeze with our new Co-Op patient submission.
Simply complete the single-page form to start the process. The patient will then be notified to complete the necessary information needed to process their test.
Oh, and don't worry. We will remind the patient to complete the process on your behalf.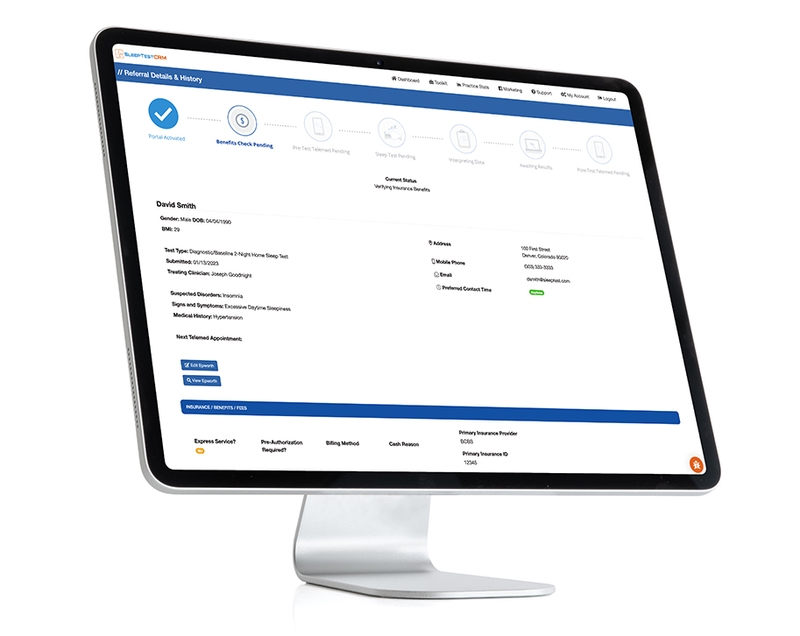 Status Tracking
Keeping track of patients is simple in your patient portal.
See all patients by their status.
View patient details.
Add chart notes.
Contact support.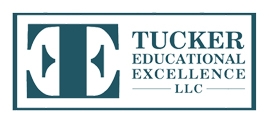 "One of the biggest road blocks for having a successful dental sleep medicine practice is obtaining a diagnosis. Sleeptest.com has overcome that road block! It is now easier than ever to have a patient be tested in the privacy of his/her home. The two night study provides excellent results that are interpreted by a Board Certified Sleep Physician. I have had tremendous patient acceptance as well as positive comments regarding the process. Ryan Javanbakht and his Team provide phenomenal service, support and assistance! I highly recommend Sleeptest.com!"