ResMed ApneaLink Air Device Instructions
Do you think you might have sleep apnea? A home sleep test device is just what you need to discover the cause of your symptoms. Our home sleep study is convenient, comfortable, and affordable.
The home sleep test device has only a few components and is simple to use. We'll send the test right to your door and you'll wear it for two consecutive nights. We'll gather data on your breathing, heart rate, blood oxygen levels, restlessness, and snoring that'll help our sleep doctors diagnose your condition. Choose convenience, comfort, and affordability with SleepTest.com's home sleep test device. Order your sleep test today.
Printed Directions
View or Download our step by step instructions for your sleep test.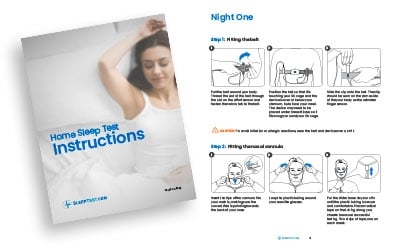 Instructional Video
Watch the video on how ApneaLink works.