You Don't Need To Visit An Office To See A Doctor
At SleepTest.com, we are dedicated to helping every patient get a sleep test when they need one. This means removing all the roadblocks that make it hard for patients to get their sleep tests. This includes the need to go to a doctor's office for a consultation either before or after a sleep test.
Telemedicine eliminates the need for patients to go to a doctor's office for a consultation. Instead, doctors and patients can connect virtually. This makes it simpler and more efficient for patients to see a doctor, without the inconvenience and cost in time and money required for an office visit. It also makes it easy for doctors to provide care for their patients remotely. If you are looking for a sleep physician to help you get a sleep test, use our Find A Provider resource.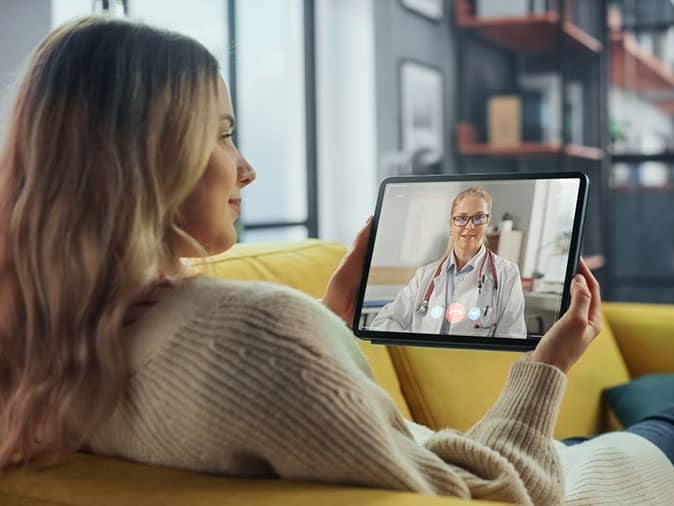 Benefits Of Telemedicine
Deadly complications of sleep apnea don't develop immediately. They take time, and often warning signs crop up early that tell us of the more serious conditions to come.
In many situations, telemedicine is a preferable approach to seeing a doctor. With telemedicine, you can enjoy benefits like:
Convenience: No travel required, so you can spend more time with family
Accessibility: You're never too far from a doctor to consult with them
Flexibility: More options for meeting outside normal business hours
Safety: No exposure to contagious diseases from sick patients
Comfort: Avoid the stress and anxiety of visiting the doctor's office
Simplicity: Easy instructions for connecting with your doctor
Versatility: You can access telemedicine on many platforms
Affordability: Reduced cost, plus covered by most insurance plans
At SleepTest.com, we recommend telemedicine because it helps more people get tested for sleep apnea and snoring. Any time you have to make an appointment to go to a new office, there's a chance you might not make it.
What Patients Should Expect With Telemedicine
Pre-Sleep Test Telemedicine Consult
Not all patients need to have a consultation before receiving their sleep test. This is, however, required by some insurance companies if a person wants the insurance company to cover the cost of a sleep test.
During a pre-sleep test consultation, you will have a scheduled consultation with a sleep physician that may include:
Post-Sleep Test Telemedicine Consult
After your sleep test, our sleep physician will schedule a consultation with you to:
Review your diagnostic data
Help you understand the sleep test data
Give you a diagnosis
Discuss your treatment options
In addition, our sleep physician will send the diagnosis, letter of medical necessity, and treatment recommendations to your referring doctor or dentist.
Get A Sleep Test With The Convenience Of Telemedicine
If you suspect you might have sleep apnea, you don't have to live with the uncertainty. Talk to your doctor or dentist about your concerns and have them refer you to us, find a provider here, or simply click on the button below to order a sleep test for yourself.